B-5 Leaders: The Ecosystem Approach Learning Cohort

Introduction Session
August 31 @ 10:00 am

-

11:00 am
Healthy relationships support healthy brain development! In this cohort,  early learning leaders will strengthen language and pre-reading instruction  to meet the needs of all children. Get ready to radically change child outcomes, by laying a strong foundation for language and literacy.
The Introduction Session will cover the  Ecosystem Construction Approach &Measure, Self-Reflection, and Rating Process.
Recommendations: Complete the Ecosystem Approach to Developing the Foundation for Reading in the Early Years Course before the  September Virtual Session.   Click here to complete the course.
Cohort Commitment
Sessions will take place 1-2 times per month throughout the 2023-2024 school year (August-April).
To register for 2023-2024 Yearlong Journey Ecosystem Cohort  click here.
Additional information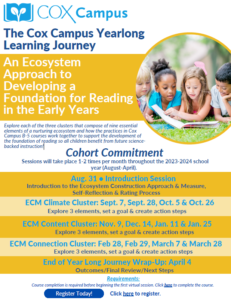 Related Events