Phonological Awareness? Check! Alphabet Knowledge? Check! The Kindergarten countdown is underway and we still have one more skill to practice – Emergent Writing! Read on for some of our favorite Emergent Writing activities to try this summer.
Emergent Writing Activities: "I'm a writer!"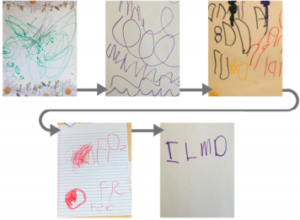 Emergent writing helps children understand writing is a form of communication we use to convey feelings, thoughts, and ideas. By providing children with rich writing experiences it will help lay a strong foundation in literacy learning. Early writing is a strong predictor of children's later reading success. There are five main stages of emergent writing, beginning from scribbling and going through using letters for prominent phonemes. You can introduce your emergent writers to six main forms of emergent writing:
Writing names

Labeling

Listing

Corresponding with others

Expressing opinions and preferences

Expository writing
By the time a child begins Kindergarten, they should reach the following developmental emergent writing standards:
Uses letter-like forms, symbols, or recognizable letters to express ideas, feelings, and opinions.

Uses writing tools with adult guidance.

Show emerging awareness that writing can be used for a variety of purposes.
Note: Some children may be able to write letters that represent the sounds they hear in words they write, but it's perfectly fine if this doesn't happen until Kindergarten.
Get your children kindergarten-ready with these five emergent writing activities!
1. Write a Summer Journal
Dear diary… 
A summer journal doesn't have to be pages of hand-written details about every day's activities, but you could help your child put together a journal of sorts, chronicling their summer adventures.
Having children draw what they did and then write out what the activity is in the picture is a great way for them to create their own writing prompt. Encourage them to not just explain what they did, but also how they felt during those experiences, and then put all the beautiful artwork on display!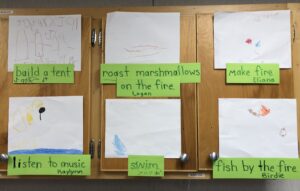 2. Write a Postcard to a Friend or Relative
Who doesn't like getting mail? And getting something handwritten from a friend or relative is extra special. Have your child write a short postcard to someone extra special in their life and then they can send it in the mail!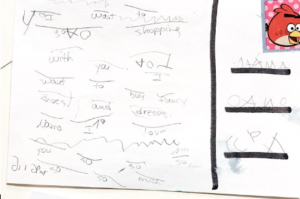 3. Make a Packing List for an Upcoming Trip
Shoes. Check! Shirts. Check! Toys. Check! Have your children put together a packing list for a trip they're going on. This trip doesn't have to be anywhere fancy – it could be as simple as going to Grandma's or to a friend's house. In addition to practicing their writing skills, it's a great opportunity to talk through what your child might do and the things they would need for each activity.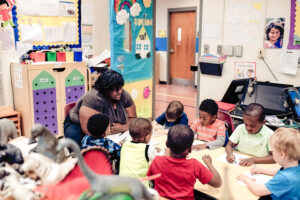 4. Label a Picture Your Child Colored or Painted
Unleash your students' inner artist and after they've completed their masterpiece, have them label what is happening in the picture. Is it a picture of their family? They can write out the names of their family members. This is a fun and easy way to include emergent writing skills during coloring time.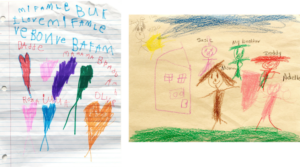 5. Vote for Your Favorite
Which would you choose? Fruits or veggies? Day or night? Beach or mountains? Take a topic you've been talking about at home and turn it into an opportunity for children to discuss their favorite things. Write out the questions and have your child write their name under each one of their favorites!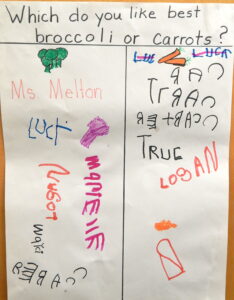 Try these kindergarten readiness activities with your Pre-K children this summer and they'll have so much fun, they won't even know they're learning! And don't forget to check out our posts on Phonological Awareness and Alphabet Knowledge. 
Recommended Resources for Kindergarten Readiness Skills
Emergent Writing