You can earn Bright from the Start credits for free with these engaging courses created by experts right here on Cox Campus! All Georgia early childhood educators need to complete 10 hours of required Bright from the Start (BFTS) professional development training.
"I love all the Cox Campus online courses! I recommend this resource to everyone I know in education."

– D. Heidemann
BFTS-Approved Courses
Infants and Toddlers
Up to 24 hours of BFTS credits
Preschool and Pre-K
Up to 34 hours of BFTS credit hours
Retake courses to earn GA Decal Bright from the Start credits
Did you know you can retake any course on the Cox Campus? Retaking courses is a great way to reinforce strategies AND earn Bright from the Start credits. You can retake a course to complete training hours every calendar year! All you have to do is select "Retake" on a course to be eligible for continuing education credits upon completion.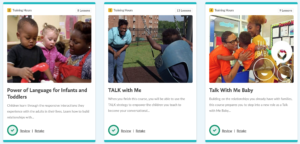 ---
Frequently Asked Questions
What will I learn on the Cox Campus?
The Cox Campus is a free online learning platform with the singular goal of eradicating illiteracy. Our courses teach you techniques to engage with children as your conversational partners from an early age. You'll be able to transform every interaction you have with a child into an opportunity to build their vocabulary and language skills – giving them the foundation they need to decide their own future.
How can I access Cox Campus courses?
Learn on-the-go at your own pace. Complete your training and access our interactive, video-based courses right from your computer, tablet or smartphone. To get started earning your Bright from the Start credits, visit the Cox Campus and sign up to get access to all our courses for free!
How do I get my Bright from the Start credits?
Once you finish a course, you'll be able to print, email, or download your training certificate. This certification includes the course name, completion date and Bright from the Start credit hours. You can retrieve your completed course certificates at any time by clicking the Certificates link in the navigation bar.