Center time is every child's favorite part of the day. It's their time to be architects and build block towers at the carpet, or be artists and create masterpieces at the easel, or be paleontologists and dig up creatures in the sand table. As a young educator, I quickly realized this was not only the children's favorite time of day, but also the most IMPORTANT time of our day. Center time took on a whole new meaning to me after this realization.
It is not a time to clean, plan, or take a mental break – as tempting as it may be! On my best days, center time consisted of me being an Oscar-worthy actress, an intentional listener, and a conversational partner. I'll be honest though, it's easier said than done. Most days I felt mentally exhausted and spread thin – can anyone relate?
Here are 3 quick tips on how you can easily incorporate focus vocabulary into your conversations with your preschool and Pre-K students and make the most of center time.
Tip 1
Post Focus Vocabulary from Storybooks in the Classroom
Incorporating language related to your storybook is one way to improve language development and comprehension. Choose around three words from your book as "focus vocabulary" and aim to use them during your conversations with students. These words should be more advanced than what your students would normally use when speaking on their own. The Cox Campus calls sophisticated vocabulary "Tier 2" words. Every story guide in the Cox Campus Resource Library includes examples of focus vocabulary related to the book. You can post your target vocabulary around the classroom to remind you to use them in conversation in any number of ways:
Write words on a white board or chalkboard at the beginning of the week. Remember, these reminders are just cues. It's not about quizzing your students about the definition by pointing to the word on the board.

Write the focus vocabulary on a piece of paper and put it into your apron pocket. If you're like me, all the little reminders are helpful during a busy day with preschoolers!

At first, just try to intentionally incorporate two or three focus vocabulary words and then build up your number when you feel more comfortable.
Now, let's take a look at some preschool and Pre-K classrooms and how they display Tier 2 and Tier 3 words. I spy several creative ways to remind yourself to incorporate complex words in your daily conversations with students!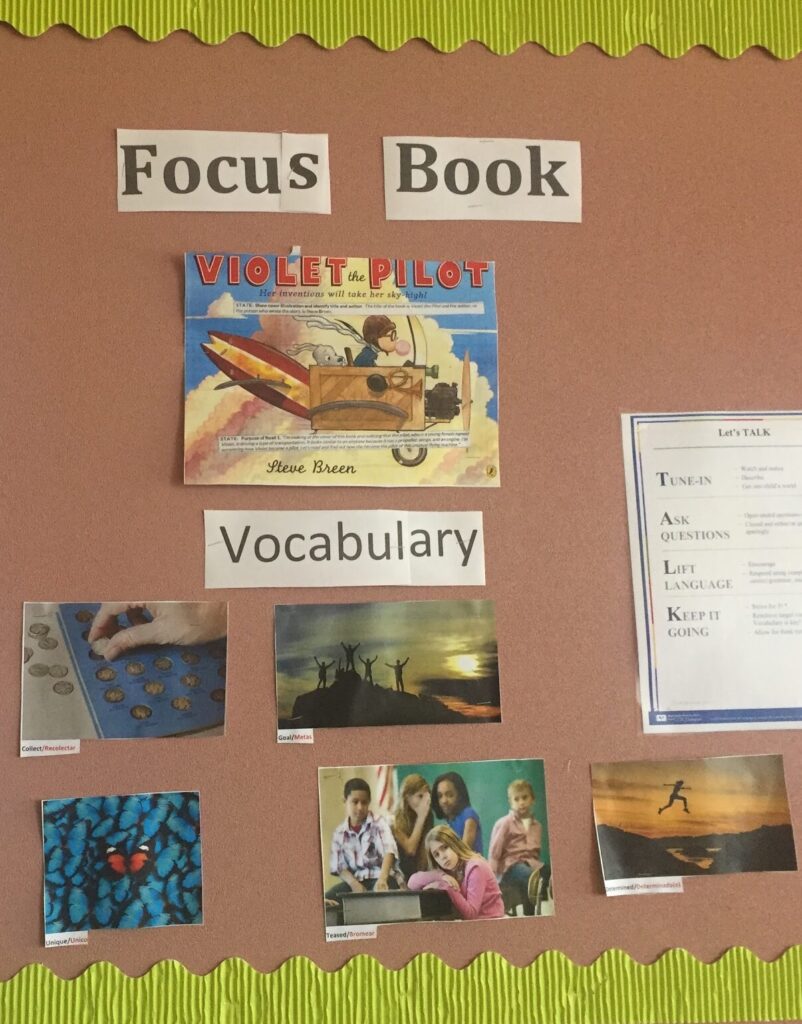 Tip 2
Post Unique Focus Vocabulary in Each Center
Center time is a staple of your preschool and Pre-K students' day. Posting advanced vocabulary in each center is a way to incorporate the words throughout the course of several months. Again, posting these words around the classroom is to remind you to use them in conversation, not a way to quiz the children. Not sure what advanced vocabulary to post around your centers? Not to worry! The Cox Campus has a free printable for example vocabulary to use in your centers.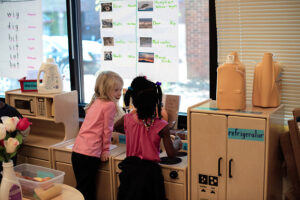 Let's take a look at this dramatic play center kitchen setup. I spot several Tier 2 and even Tier 3 words in this center. The children can play pretend, while also learning complex vocabulary like "refrigerator" and "detergent."
How could you jump in and engage these children in conversation while using the advanced vocabulary displayed in the home living center? You could say, ""I see that you are scrubbing the dishes in the sink. It looks like you covered the dirty pot with detergent, that means soap for dishes, and you are trying to scrub off all the grease."
Or you could choose to focus on the Tier 3 word "refrigerator" and say something like, "We just bought a lot of groceries from the store! I'm thinking we should put our dairy items, like our milk and cheese, in the refrigerator so they won't spoil, or go bad. The refrigerator keeps our food fresh!"
There you go! You've just engaged your students in conversation AND used it as a language building opportunity. But, there are also tons of different types of centers in classrooms – blocks, science, art, & more! And every one of them allows you to use advanced, Tier 2 words when talking with your students. Here are some of the most common centers and examples of appropriate, complex vocabulary you can use: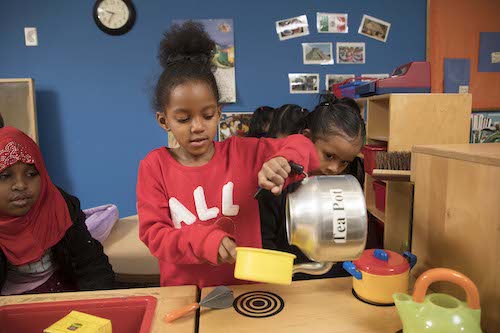 Dramatic Play/Home
Living Center
Ingredients
Independent
Dependent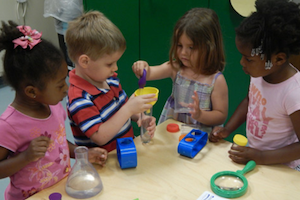 Science or Discovery
Center
Curious
Interesting
Assist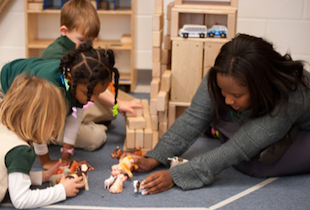 Blocks Center
Blueprint
Separate
Frustrated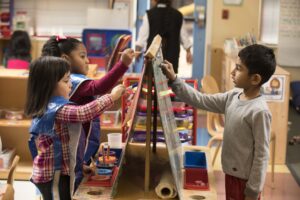 Art Center
Beautiful
Combine
Decorate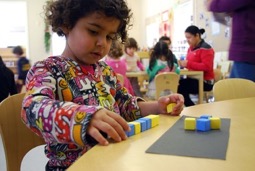 Math Center
Tip 3
Create Memorable, Interesting, and New Activities at Centers
When children have engaging and memorable experiences as they're exposed to new vocabulary, they're more likely to remember and use those words again. By creating interesting, language-building spaces and activities, you give children a chance to make stronger connections between words and their meanings. Creating these fun and memorable centers doesn't have to be expensive – or take up a ton of time! So if you're looking for center ideas for your classroom that are a bit out-of-the-box, you've come to the right place. Here are a few ideas for centers that you could include in your preschool or Pre-K classroom, as well as the vocabulary your children could learn.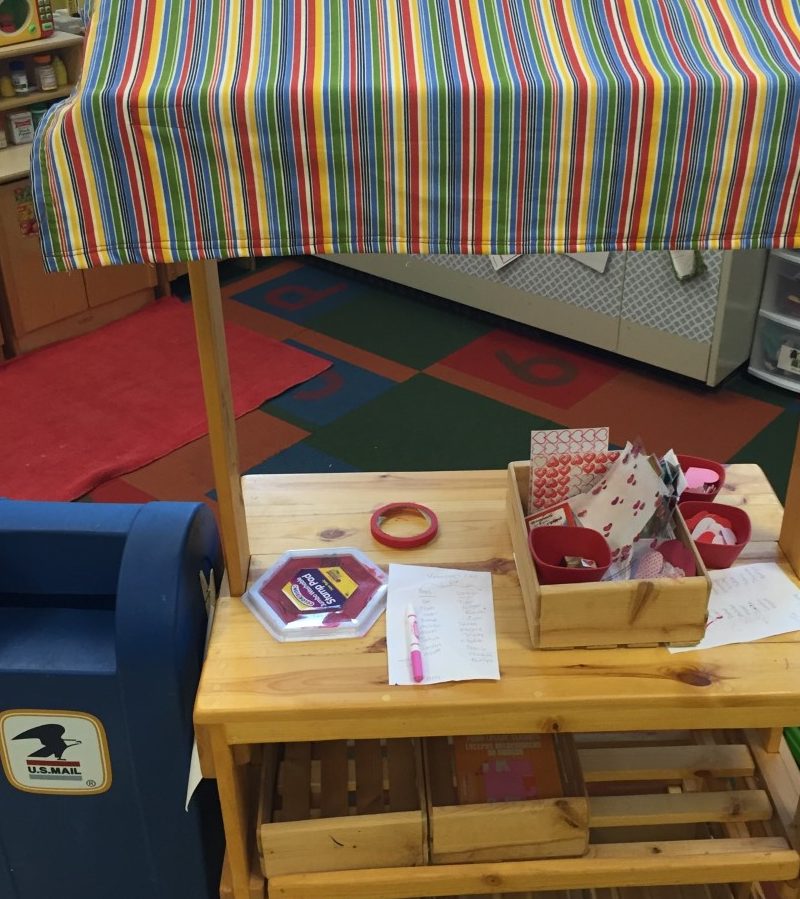 Post Office
Add envelopes, old stamps,
postcards, thank you cards, or
invitations.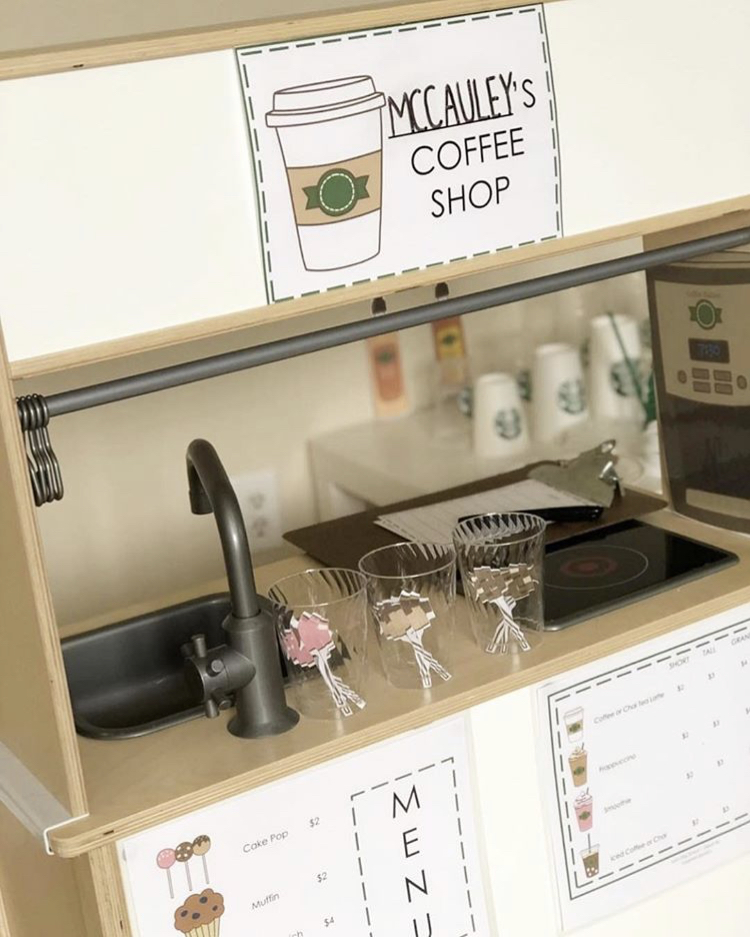 Coffee Shop
Include menus, paper coffee
cups, and coffee beans.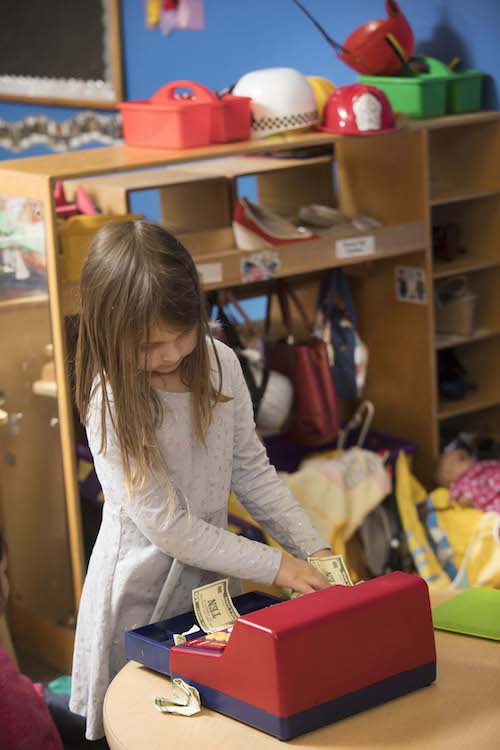 Shopping Center
Use grocery bags, add shopping
lists, play cash register, and
store items for pretend
purchase.
How to Make the Most of Center Time
Center time is usually one of the students favorite things to do during the school day, but it's perhaps one of the most important as well. Try to stay in one center and engage with your students for a while, rather than bouncing from center to center. You should aim to spend at least 5 to 10 minutes in each center. Some of you may be thinking that is impossible with your classroom. What I would recommend is sit where you can still see the entire classroom, and have your assistant teacher stationed in another popular center for best classroom responsiveness.
Remember, a child needs to hear a word at least 12 times before they can start using it independently. So get out there and make center time language time! I know you can do it!
Recommended Center Time Resources for Preschool & Pre-K Classrooms: