To learn, every child needs the opportunity to process new information and ideas. This is often done best by communicating with others who are being introduced to the same information. Long story short, children need to talk in order to learn! 
Whether you've been a teacher for decades or are just starting out, you've likely heard of a number of discussion techniques to use in your classroom: 
Turn and talks, think-pair-shares, numbered heads.  
Any of these ring a bell? These are all ways students come together to discuss their ideas. But what happens when students partner up and don't know how to get the conversation going? Don't worry! We have a technique to help with that too. We call it "Accountable Talk."
What is Accountable Talk?
Accountable Talk is student-led academic conversation that includes back and forth dialogue. It can be incorporated anytime during the learning day and be used to create meaningful conversations about any learning topic. Translation? Accountable Talk allows students to engage with one another to solve problems and exchange ideas. 
How to Use Accountable Talk in Your Classroom
Introducing Accountable Talk in your classroom is a simple process. Just watch as Ms. Lindsey uses Accountable Talk in her classroom:
She reviews the talking prompts with her students so they can easily pull from these sentence starters to get the conversation going. Did you see how the students start to use these conversation starters during their conversations? All they needed was a bit of guidance and – BAM! – the conversations are flowing!
Why Accountable Talk Matters
Accountable Talk is a meaningful and easy discussion method to incorporate in your classroom. The conversation prompts not only help relieve any awkward silences, but they also scaffold students' oral language skills as they continue to grow. You can print out a version or display these prompts in your classroom for quick reference.
Now, you might be asking yourself, "What am I doing while the students are talking?" Remember, you're there as a support system for your students – available when they have questions and always being aware of your role in building their language development skills and confidence. Here are a few tips for what to do during Accountable Talk time: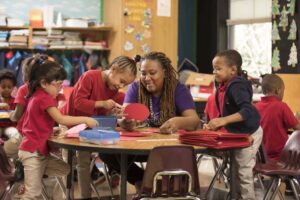 Reinforce vocabulary.

When students ask questions, use that as an opportunity to incorporate

rich, complex vocabulary

in your response. But don't forget to use child-friendly definitions!

Stay close to the conversation

. Don't wander too far away! Your students will likely have questions during this process. Remember, when you engage with students, be sure to get down on the student's level and maintain eye contact.

Ask open-ended questions.

When you interact with your students during Accountable Talk, always remember to ask open-ended questions that will encourage conversation between the students.
Do you feel ready to start incorporating Accountable Talk in your classroom? Take our free course, "Ecosystems," specifically for K-3 educators to learn more about Accountable Talk and how to create a classroom designed for children to thrive!
Recommended Resources for Accountable Talk