"You are not lucky to be here. The world needs your perspective. They are lucky to have you."
– Antonio Tijerino, President & CEO of the Hispanic Heritage Foundation
The United States of America would not be what it is today without the histories, cultures, and contributions of Americans whose ancestors came from Spain, Mexico, the Caribbean, and Central and South America.  To honor that truth, National Hispanic Heritage Month is celebrated from September 15 to October 15. It is undeniable that these individuals have significantly shaped America – across arts, science, politics, education, and law our country has benefitted, and continues to benefit,  from these contributions. 
Why the mid-month date? It is not arbitrary: September 15th marks the anniversaries of independence of Costa Rica, El Salvador, Guatemala, Honduras, and Nicaragua. This is followed by Mexican Independence Day (often confused with Cinco de Mayo) on September 16th.
Use this time to share with children this important history and uplift the countless contributions of generations of Hispanic Americans! Talk about how these stories have been overlooked and emphasize how they should be celebrated. As you explore these topics together, you will help build social skills such as perspective-taking and empathy and, ultimately, contribute to the development of a more inclusive community and society.  
These conversations should happen year-round, as they are a vital to creating a culturally and linguistically responsive classroom environment.  It is equally important to talk about and uplift other cultures at home. Making inclusion, empathy, and cultural responsiveness core values in your home will ensure your child carries them out in to the world, now and in the future.
Hispanic or Latino children nationwide numbered close to 19 million in 2019, making up 26 percent of the United States' total child population, according to a new analysis from the National Research Center on Hispanic Children & Families.  For most of these children, Spanish is a first language. All children thrive in environments where they see themselves represented, accepted, and valued. This means it is even more critical today to create classroom environments that support Hispanic children's learning and development in more than one language, and to lift up diversity and inclusion in the classroom and at home. 
If you are an educator looking for best practices for young dual language learners, including how to create a more culturally responsive learning environment, the Cox Campus can help. We offer two new courses that illustrate how you can support and include children's first language in the classroom. When you support each child's learning by following the proven practices, you help to create a positive and accepting learning experience for your DLL students.  When you encourage their participation throughout the day – through morning meeting, story time, centers, small groups, and transitions – you help connect the language dots and create a safer space for all learning.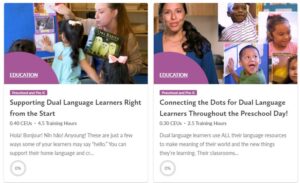 Supporting Dual Language Learners Right from the Start
Connecting the Dots for Dual Language Learners Throughout the Preschool Day!
Terms to Know
Hispanic is a very broad term that does not necessarily resonate with each person or family. When discussing important figures, be sure to talk about their specific heritage. Are they Puerto Rican-American, Mexican-American, Panamanian-American? Also, be sure to alternate the term Hispanic with Latino and Latinx as well, this will help ensure inclusiveness in your conversations.
Books and stories are a great way to showcase diversity and create a culturally responsive environment.
We've gathered some suggestions for stories that highlight Latino culture you can read throughout Hispanic Heritage Month, and we encourage you to continue to use these throughout the year to consistently uplift diversity and inclusion in your storytime: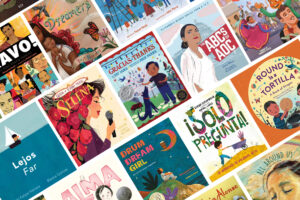 Alma and How She Got Her Name by Juana Martinez-Neal
Abuela by Arthur Dorros

 

Dreamers

by Yuyi Morales

Once Upon a Time: Traditional Latin American Tales / Habia una vez: Cuentos tradicionales Latino Americanos

by Reuben Martinez

Separate Is Never Equal: Sylvia Mendez and Her Family's Fight for Desegregation

by Duncan Tonatiuh

Turning Pages: My Life Story

by Sonia Sotomayor
My Papi Has a Motorcycle by Isabel Quintero

 

Islandborn

by Junot Díaz
You can also check out 17 Books to Celebrate Hispanic and Latine Heritage and Books for Hispanic Heritage Month for more ideas! 
No matter which of these books you choose, there are many great vocabulary words you can use to expand children's vocabularies around this important topic, including:
Heritage:  The traditions, achievements, and beliefs that are part of the history of a group of people.

Tradition

:

 

Something you do or believe that was passed down from the people who lived before you.

 

Stereotype

:

 An idea about how someone will act, based on a group they are in.

 

Inclusion: Making sure all people have the same opportunities, no matter who they are or where they come from.
Don't limit these conversations to the book. Be sure to use the book as a springboard to have rich, meaningful conversations with your child where you honor and celebrate and learn about the rich cultures and history of Hispanic/Latino people. 
We know that getting access to the right books and stories can be challenging – maybe now more than ever. Check out the resources listed below to help you get virtual access to these texts. 
Resource

 

 

Use(s)

 

 

Cost

 

 

Epic Books

 

 

A digital reading platform with a multitude of high-quality digital versions of beloved picture books. 

 

Free for Teachers, Free 

30-day

 

trial

 for families 

 

Overdrive

 

 

A digital platform created for borrowing e-books. Access with your local library card. 

 

Free 

 

Local Library

 

Many libraries offer both in person and online access to books.

 

Free

 

YouTube

 

Read alouds of every book listed above, and many more.

 

Free

 
By sharing stories and having meaningful conversations throughout the year, we are teaching our children to appreciate all cultures and traditions and giving representation to groups who are far too often left out. As adults, we can set the stage for a more inclusive world where all people are valued and celebrated. #literacyandjusticeforall