Why Talking With Babies Matters
Language nutrition is as important to building a baby's brain as the food they eat. Every adult has a role in helping each baby gain that nourishment.
When staff and volunteers in a healthcare setting embrace language nutrition as part of every baby's healthy start, families learn the full value of the influence they have in their child's life. No matter how overwhelmed families may feel in the moment, they learn critical, natural actions that matter – and they leave knowing the power of their relationships, prepared to build their babies' brains for all future learning, including learning to read.
Reading is a critical skill connected with long-term outcomes in academics, healthcare, economics, and more. Explore why literacy matters here.
We read to become who we are meant to be.
Talk With Me Baby Healthcare
Make a difference in the lives of all babies and children in your facility by learning the connection between a parent's talking with their baby and their child's early brain development. Cox Campus has partnered with Grady Hospital in Atlanta to embed language nutrition coaching into their standard of care for a healthy delivery. Now, your hospital can too. Use the Cox Campus Integration Guide to equip your staff with the skills needed to ensure every baby leaves the hospital in the arms of a family prepared to deliver language nutrition. (See recommended articles below.)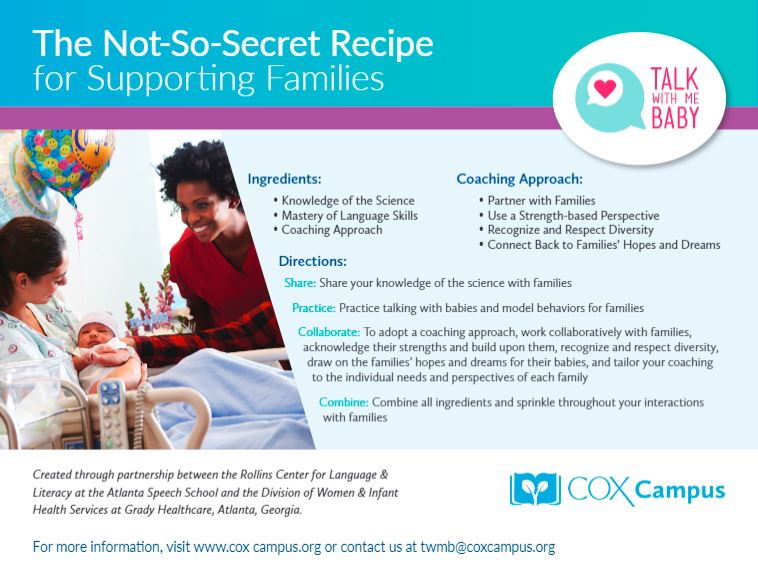 Newborn hearing screening is an important part to a healthy start.
Learning that their baby may have a hearing impairment can be difficult news for families to receive. It is critical that practitioners know how to give accurate hearing screenings, share results with families, and ensure parents follow appropriate next steps as quickly as possible.
ATL aims to ensure that every provider is prepared to deliver accurate hearing screenings and to support families in their journey after the first failed hearing screening. Enrollment with a Parent Navigator makes a critical difference by connecting families with early intervention.
Developmental Milestone Tracker
Development happens along a continuum. The Cox Campus Developmental Milestone Tracker targets language development milestones and align with age-appropriate resources to support development and can be shared with families.
Healthy Brain Development in Perinatal Care

Language & Literacy in Birth to 5 Care & Learning

The Science of Reading Instruction in K - 3
Dive Deeper With Cox Campus
This course was created for all adults working in an organization that supports children and families to help them understand the role they play in building babies' brains for all future learning.
Dr. Renée Boynton-Jarrett, Pediatrician and Social Epidemiologist, and Dr. Neena McConnico, Clinical Psychologist and Licensed Mental Health Counselor, have joined forces to provide the framework for trauma-informed practice. Social-emotional care that addresses trauma is critical to every child we serve.
The Cox Campus Difference
When practitioners implement Talk with Me Baby, they see dramatic results.
Here, immediately applicable and research-backed practices come to life so you can learn how to impact every child - from infancy to literacy.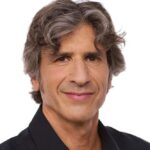 "I have had the privilege of observing numerous programs in healthcare, early education, and child welfare settings around the country, and partnering with dozens of others. Talk With Me Baby, strategically implemented, brilliantly builds on the science of organizational change processes. In fact, it's exemplary."
Josh Sparrow MD
Executive Director, Brazelton Touchpoints Center
Always Free, Unlimited Access
Thanks to generous partner investments and grant funding, everything on the Cox Campus is available to you at no cost - ever.