Children exposed to intentional storybook read alouds benefit from learning about written syntax and vocabulary, develop concepts of print and phonological awareness, and build their comprehension skills (National Early Literacy Panel 2008).  However, listening to a story read aloud is a very different experience for children who are dual language learners (DLLs) because they are not yet proficient in English.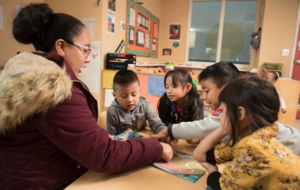 Please visit our Cox Campus Resource Library and read the Benefits of Bilingualism to learn more about our incredible DLL's! 
Let's think and reflect on our own classroom! What are some of your experiences that you observe and encounter with your DLL's at story time? Are they engaged in the read aloud? Do they answer the "why" question at the end of the story read? If not, why do you think this is happening, and what can we do to change this for our students? Children whose home language is different from English and who are learning and developing in more than one language benefit from adaptations to instruction that specifically address their needs. DLL's thrive in classrooms with a foundation of responsive, nurturing interactions and rich oral language, but without that foundation, the supports can fall flat. Here are 5 meaningful adaptations and support strategies you can make when reading storybooks with dual language learners in the preschool and pre-k classroom. 
Note: Remember to implement repeated read alouds for the same one book ("focus book") in a week period. Listening to a story several times a week allows children to have a deeper understanding of the events and characters of the book, but also a greater understanding of the vocabulary. If you need and/or want more information on this, take our course on Transforming Story Time! 
1. Introduce the book in the home language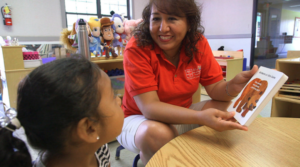 If you speak the child's home language or if there are several children with one home language, and you or someone in the classroom speaks that language, introduce and read the book in the home language first prior to your first whole group read in English (Lugo-Neris, Wood Jackson, & Goldstein 2010). This support strategy is an important way to help build story comprehension because it orients the child to the storyline, the characters, and the events. If you don't speak the home language, think of someone you could invite into your classroom to read the book with your DLL's in their home language. You could ask a family member, community volunteer, or other bilingual staff members! This read aloud would usually be in a small group setting with just DLLs with the focus on the events of the book. You might be wondering how to implement this into your daily schedule? Teacher's will typically have their small group "pre-read" on a Monday morning or on the Friday before the new book is introduced in the next week.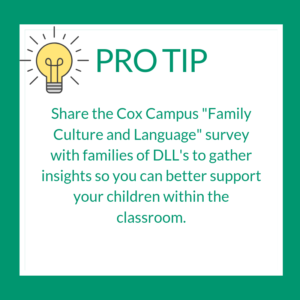 Now, let's take a second to reflect on this support strategy for your children… I'm sure the majority of you have seen the movie, "Beauty and the Beast." Imagine, watching the movie in its original language, French. Seeing it in English allows you to have a deep understanding of the characters, events, storyline, and also keeping you completely captivated and engaged throughout the movie. When you then watch it in the foreign language, things fall into place because you've already seen and understood it in your own language. This is just a simple comparison, but I hope this makes you step back and reflect  on your current practices. I challenge you to make a plan to implement this new support strategy for Monday! You've got this! 
2. Introduce target vocabulary words
Learn a few book-related target words, including a combination of Tier 2 (sophisticated) and Tier 1 (simple, concrete) words, in the children's home language. Teachers should introduce the word in both English and in the home language before the first whole group read aloud. But like always when we are sharing new words with our children, remember to pair the new vocabulary with child-friendly definitions!  Make clear connections between the word in English and the home language. For example, you might say in English we say "imitate" and in Spanish, the word is "imitar."
I promise, we would never ask you to learn 5 new languages, but focus words are a realistic way to be intentional in making connections to the home language. Teachers who are not fluent in the home language can find the target vocabulary in the dictionary/online translation, ask for help from the children's family members, and/or ask other bilingual staff members at the Center. 
3. Use Visuals
Create visuals for each book-related target vocabulary word and introduce these before you read!  Print out an image that represents each target word or focus vocabulary word. While introducing the new vocabulary to your dual language learners, point to the appropriate image. Throughout your read, continue to incorporate "pointing" and the rest of the PAT strategy (point, act and tell), a reading approach that engages the audience through gestures and facial expressions, and builds vocabulary through pairing unfamiliar words with their child-friendly definitions. Using gestures and pointing are critical supports needed for DLL's to have a better understanding of the characters, vocabulary, and overall storyline.  
When you make connections to the book throughout the week, you can use these book-related target vocabulary words and visuals in meaningful conversations with children and support them in using the words too. 
A Bubble Map is a great tool to help you plan activities and connections that tie back back to your anchor storybook. You can find the Bubble Map template here and also check out other completed storybook Bubble Map templates in the Cox Campus Resource Library!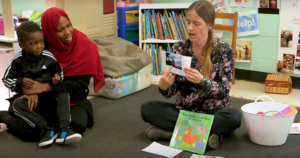 WatchMs. Deanna reading "The Little Red Hen" to her DLL's while introducing the target vocabulary words with printed visuals. 
4. Incorporate props
Before reading, prepare a few props (real objects, cut from paper, puppets etc) that relate to the story and will help make it come to life for your DLL's. Use the props as you read the story to reinforce meaning. Invite children to actively participate and retell the story using the props you have already introduced (Gersten & Geva 2003). Remember, during your read aloud, make sure to incorporate the PAT strategy (point, act and tell) like discussed above. And don't worry about spending so much time hand-making your storybook props! You can probably find most of them just right in front of you somewhere in your classroom!
5. Choose culturally relevant stories
Incorporate culturally relevant story books into your lesson plans. All of your children will benefit from learning something new about their friend's culture, learning new vocabulary, and gaining more world knowledge! Plus, the children whose culture was represented in the book will feel celebrated and have a greater sense of belonging within the classroom. You will find that this is a very meaningful way to bridge the worlds of school and home.
Recommended Resources found in the Cox Campus Resource Library