Get everyone in your group excited about what they are learning. You're all working together, so make it fun! From inspiration and support to modeling and feedback, communication is the key to a successful coaching relationship. Communication Tools in your Coaching Dashboard include coaching announcements, a group discussion board, and private messaging.
Coach Announcements
Coach Announcements are a great way to share important news with your group members. New announcements will show up at the top of your group's discussion board, while older announcements will be labeled with an orange announcement tag. Group members will also receive a notification every time you send an announcement.
To create a new announcement to share with your group within your coaching dashboard, tap "Create Announcement" from the Discussion tab. Simply type your message in the box, add any attachments (if desired) and post. From the Announcement tab you can view old announcements and also edit or delete your announcements.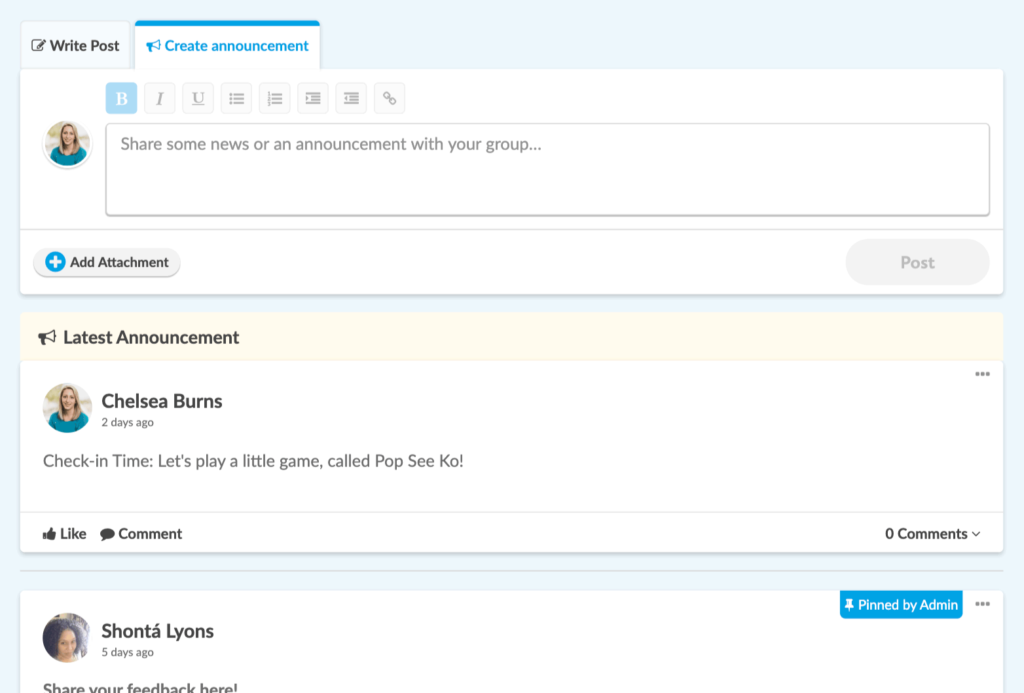 Group Discussion Board
Group Discussion is a great place to share tips and ask questions of your group to facilitate conversation. It's also a great place for learners to support and encourage one another. Any member of your group can initiate a discussion, like a post, or comment on ongoing discussions. Encourage them to make this space their own and have some fun with it! Group members can post, edit or delete their own posts, and as a coach, you can edit or delete any post or comment when necessary. To help you keep up to date with everything happening in your group, you will receive notifications to let you know of new activity.
Start Discussion
To start a new discussion, tap "Write Post" on the message box and create your message. You have the ability to customize your text with font styles, bulleted and numbered lists. You can also attach PDFs, photos, add YouTube videos and other links into discussion posts. Have a topic you don't want to be missed? You can pin your discussion post to the top of the list by clicking the three dots in the top right corner of each post, and select "Pin" from the drop-down menu. Anyone in the group can respond to discussion topics. Tap "Comment" to reply to a discussion post or "Like" to react positively to a post without writing a full message.